Inga Binga
The story of JFK and the 'scandalous Scandinavian'
This is the true story of Inga Arvad, a former Miss Denmark and Danish film star, world traveler and femme fatale who went to United States and had a passionate love affair with John F. Kennedy during World War II. Her rumored ties to Nazi Germany made her an inappropriate partner for the future president. She was harassed relentlessly by the FBI, and the young couple eventually had to split up.
May 1941: Inga Arvad graduates from Columbia University School of Journalism in New York. She arrives in Washington, D.C., to look for work at a time when the US capital is building up to the war. Inga lands a job as a columnist at the Washington Times-Herald, an isolationist newspaper. She moves in with coworker Kathleen "Kick" Kennedy, daughter of Ambassador Joe Kennedy. One day Kick's brother, 24-year-old navy ensign John F. Kennedy comes to town to serve at the Office of Naval Intelligence.
Inga and John are introduced at the F Street Club and there is immediate, mutual attraction. In November, Inga introduces JFK to her readers in her column, "Did you happen to see". What the readers do not know is that JFK is having a secret love affair with Arvad, or as he calls her: "Inga Binga." They meet secretly at Inga's apartment. When Papa Kennedy learns about the affair, he has no objections.
But Page Huidekoper, a former employee of Joe Kennedy and now Inga Arvad's colleague, does not approve. Page is reportedly in love with JFK and claims to have seen a picture of Inga in Hitler's private box at the Berlin Olympics. Rumors are soon flying that Inga is a spy, an agent for the Nazis. The editor of the Washington T-H decides to bring Inga and Page to an FBI office in order to settle the matter.
The photo never surfaced. However, another photo appeared in a short news item from 1936 naming Inga Arvad as Adolf Hitler's "ideal" and chief of publicity in Denmark. This was never confirmed. But Inga and her husband are friends with the Alex Wenner-Gren, a Swedish industrialist suspected of spying for the Nazis and now banned from entering the U.S. President Roosevelt in the White House, FBI's J. Edgar Hoover and one of the world's most influential men, Joe Kennedy, are deeply concerned. Inga is under a 24-hour surveillance by FBI agents. Her phone is tapped, microphones are placed in her apartment, plain clothes agents are following Inga and JFK.
The affair continues, and by now Papa Kennedy has become worried. He calls his friends at the Navy Department. Soon after, JFK is transferred to the naval base of South Carolina. But the affair continues. Inga checks in at the Fort Sumter Hotel under the name of Barbara White and they spend several weekends together in Charleston, followed by the FBI.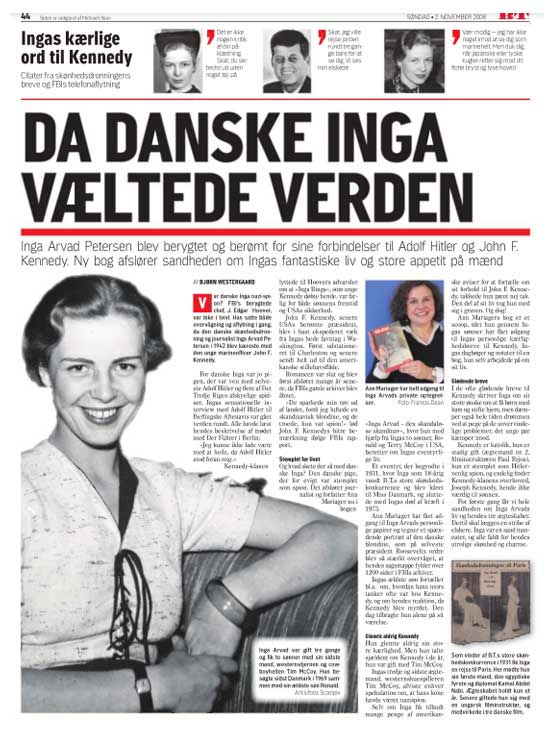 Gossip columnist Walter Winchell breaks the news that one of Ambassador Joe Kennedy's sons is having an affair with a Washington columnist. And now the entire country is talking about the affair. Inga becomes depressed as the gossip continues. She divorces Paul Fejos, quits her job in order to get away from it all. She applies for a job at the Office of War information in New York, and is told she is perfect for the job. But then J. Edgar Hoover calls up the head of the War Information in New York…
JFK keeps writing her. He reports to her from the Pacific, calling her the brightest point of his already bright life and he asks her to send a new photo. The one he had of her "met its watery grave" during the Japanese attack on his patrol boat.
Arvad and her mother move to Hollywood. She is now reporting for a syndicated news service on life in "the glamour factory". One night, John F. Kennedy shows up at her apartment to try to revitalize an their love affair. But another man is already there, renowned physician William G. Cahane.
In 1945 gossip columnist Louella Parsons reports that British parliamentarian, Baron Boothby, is engaged to a Nazi sympathizer. That woman is Inga, and story ends their engagement. For the rest of her life Inga carries the cross of suspicion, though no real evidence has ever been produced. Was she a Nazi spy? Or did she just enjoy the company of influential men?
In 1947, Inga Arvad marries former Western star Tim McCoy. The have two sons and move to Nogales, Arizona. She never works as a journalist again, and never talks about her affair with Kennedy. When the President is assassinated in November 1963, she rushes to the local newspaper to follow the incoming wire reports on this national tragedy and retires to her bedroom, mourning.
Inga dies from liver cancer in 1973.
My book, "Inga Arvad – the scandalous Scandinavian" was published in Danish by Gyldendal Publishers.
The book is presently being translated into English. We are looking for publishers and/or agents in the English speaking markets and sample translations are available on request.
Ann Mariager